Big
Walter
Horton
(April 6
, 1917 -
December 8, 1981
) was a
harmonica player and
singer of
American blues
.
Innovative
for its sound
with the harmonica
, using
gentle
phrasing
and
timbre
peculiar
, marked
by a deep
vibrato
and attack.
During his career
he accompanied
numerous musicians
, usually in
the area of
​​Memphis
and Chicago,
both live
in the studio
and traveled
to Europe to participate
in the cycles of
American
Folk
Blues
Festival.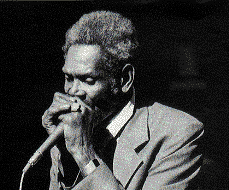 He died in
Chicago
, Illinois
in 1981
of a heart attack
and the following year
,
entered the Hall
of Fame
for his contributions to
Blues
music.
Big Walter Horton (6 de abril de 1917 - 8 de diciembre de 1981) fue un armonicista y cantante de blues estadounidense. Innovador por su sonido con la armónica, utilizando fraseos suaves y un timbre muy particular, marcado por un profundo vibrato y ataque. Durante su carrera acompañó a numerosos músicos, usualmente en el área de Memphis y Chicago, tanto en vivo como en el estudio y viajó a Europa para participar en los ciclos del American Folk Blues Festival.
Murió en Chicago, Illinois en el año 1981 de un ataque cardíaco y al año siguiente, ingresó al Salón de la Fama del Blues por su contribución a la música.