Michel
Petrucciani
was a
French
jazz
pianist
.
Born in
Orange (
France),
December 28, 1962
and died in New
York on
January 6, 1999
.
Suffering from
osteogenesis
imperfecta,
overcame his
disability to
become an artist
of talent
and international renown,
among the best
jazz pianists
in the world.
His father
, Antoine
Tony
Petrucciani,
jazz guitarist
, was his
music teacher
(he
taught to play the
piano)
and later
collaborated on
several of his albums
.
His two
brothers are also
musicians (
Tony
students
)
: Louis
Philippe
's
bassist and
guitarist
.
The playing
of
M.
Petrucciani
was characterized
by rhythm,
the sound
that gives the
piano
, and an exceptional
polyrhythmic
independence
of
right and left hands
.
Also
a composer,
had a preference for
Brazilian music
, always present in
their records.
It rests
in the cemetery of
Père
Lachaise (
Paris)
at the tomb
of
Chopin.
Since July 2003
, there is
a square
in Paris
Michel
Petrucciani
.
Michel Petrucciani fue un pianista de jazz francés. Nació en Orange (Francia), el 28 de diciembre de 1962 y falleció en Nueva York el 6 de enero de 1999.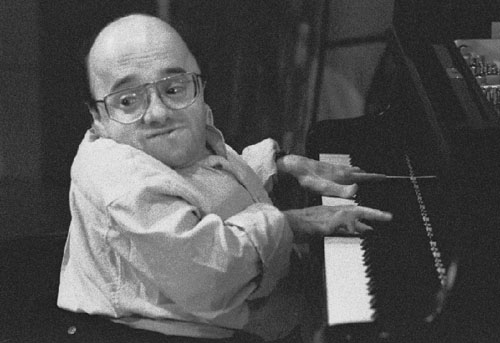 Aquejado de osteogénesis imperfecta, superó su discapacidad hasta convertirse en un artista de talento y renombre internacional, entre los mejores pianistas de jazz del mundo.
Su padre, Antoine Tony Petrucciani, guitarrista de jazz, fue su profesor de música (le enseñó a tocar el piano) y posteriormente colaboró en varios de sus discos. Sus dos hermanos también son músicos (alumnos de Tony): Louis es contrabajista y Philippe, guitarrista.

La manera de tocar de M. Petrucciani se caracterizaba por el ritmo, el sonido que imprime al piano, y una excepcional independencia polirrítmica de las manos derecha e izquierda. También compositor, tenía preferencia por la música brasileña, siempre presente en sus discos.
Reposa en el cementerio del Père Lachaise (en París) junto a la tumba de Chopin. Desde julio del 2003, existe en París una plaza Michel-Petrucciani.